April 15th marks World Art Day, a day established by the International Association Of Art in order to celebrate fine art. If you have a painting thrown haphazardly in your storage unit on this day, then it is the perfect time to learn how to properly store it!
Storing artwork in storage units is not unheard of, and occasionally famous pieces of art live unbeknownst in storage units for years before someone discovers them in less-than pristine condition. In fact, just last year, rockstar Alice Cooper found an original Andy Warhol piece in his storage unit that had been rolled up in a tube for 40 years! While you probably do not have an Andy Warhol piece in your storage unit — or a Picasso or Monet for that matter — that doesn't mean you can't keep the artwork you do have in great condition while in storage!
Whether you are storing a collage your kiddos did in elementary school or an oil painting that has been handed down from generation to generation, be sure you know how to keep it safe in storage. Keep reading to learn some valuable tips!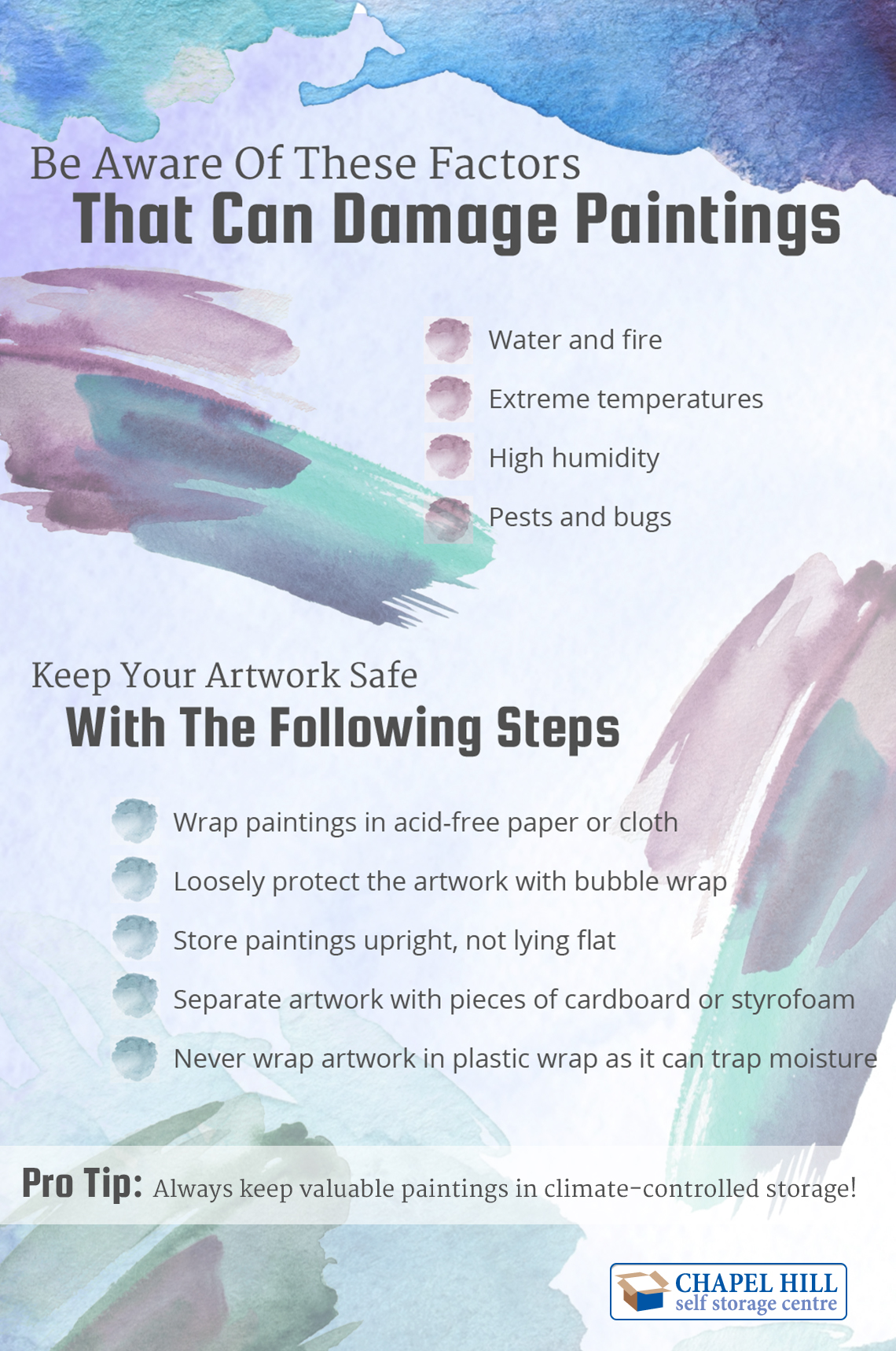 The Biggest Risks To Your Art
Everything will eventually deteriorate, especially if it is not properly taken care of. The biggest risks to paintings are typically avoidable when they are stored correctly and care is taken in their preservation. The following are some risk factors that could harm your artwork:
Water or fire damage

Big temperature or humidity swings

UV exposure

Pests or bugs

Incorrect handling resulting in tears, finger smudges, stains, etc.
Storing Artwork In A Storage Unit
Unfortunately, you — and humans in general — are your artwork's biggest enemy. From touching it with dirty fingertips to accidentally stacking something on top of it, most art storage accidents can be avoided with careful care and consideration. But, never fear! Keep reading to learn more about how to store artwork in a self-storage unit.
First, make sure your art is clean. Use a soft microfiber cloth to gently wipe any dust off of the surface. If the piece is relatively dirty, you can even take it to a professional to have cleaned in order to maintain the value of the art.
While it may seem like a good idea to wrap your painting in plastic wrap, this can actually trap moisture even in a climate-controlled storage unit — we'll talk more about that in a moment! Instead, wrap the artwork in acid-free paper. Then, wrap the painting loosely in bubble wrap. This will help protect it if it falls without locking in moisture.
Lastly, while you don't have to hang your art in your self-storage unit, paintings should be stored upright, rather than laying flat. This will help to keep the canvas taut. If you are leaning paintings up against one another, seperate the layers with cardboard or styrofoam.
Always Choose Climate-Controlled Storage For Art
While the above are some important steps to take to prepare your painting or other artwork for storage, the most important thing you need to do is choose climate-controlled storage. This is especially true for canvas paintings as they can be particularly susceptible to mildew in humid environments.
At Chapel Hill Self Storage Centre, we offer affordable climate-controlled self-storage in a number of sizes to fit your needs and budget. And while our climate-controlled storage units keep a relatively steady temperature and humidity level, you can always take extra precaution by throwing in some moisture absorbers and mothballs near your valuable artwork.
Learn more about our climate-controlled self-storage units by exploring our website or by getting in touch with us via phone or message.