Climate Controlled Self Storage Chapel Hill
When it comes to climate controlled storage facilities, you want to make sure you are getting only the best. It is important to remember that not all self storage – and certainly not all climate controlled self storage – is made equal. On this page, we are going to answer a few frequently asked questions about  climate controlled self storage to give you a better idea of what needs to go in a climate controlled storage unit, what it even means to be a "climate controlled" storage facility, and what sets Chapel Hill Self Storage Centre apart from the rest.
But first, if you have been searching the internet for "the best climate controlled storage near me," you found it. Feel free to head over to our storage unit pricing list to check out our rates or get in touch with our self storage facility in Akron to get started storing at our clean, safe, and secure storage facilities. In the meantime, keep reading to learn more about storage units with climate control technology.
Climate Controlled Self Storage FAQ
What Is Climate Controlled Self Storage?
Before we talk about what 'climate controlled storage' refers to, let's first talk about climate. Climate, if you remember from your elementary school science class, refers to the general weather conditions over a certain period of time including temperature, humidity, precipitation, sunshine, wind, and a few other aspects. In climate controlled self storage, it is safe to assume there will be no precipitation, wind, clouds, or the like inside your Chapel Hill storage unit! However, temperature and humidity transcend walls, and therefore, both play an important role in a climate controlled storage facility.
This is an important distinction because, when it comes to keeping your items safe from the elements, humidity is just as important as temperature. Some self storage facilities in Akron will say that they offer "temperature controlled storage units." While this is a little better for your items than unregulated storage units, it is important to remember that this most likely means that they only offer temperature control and not both temperature and humidity control like we do at Chapel Hill.
Climate controlled storage units can range anywhere from 55 to 85 degrees Fahrenheit and keep a relatively low humidity level. Chapel Hill Self Storage Centre, though, keeps our climate controlled self storage facility between 55 and 72 degrees just to err on the side of caution when it comes to keeping your items safe. 85 degrees is pretty warm, after all! Our humidity levels are kept low with powerful dehumidifiers to ensure that water vapor levels in the air are under control.
Do I Need Climate Controlled Storage?
The easy answer is if you are storing any items that you care deeply about that can be damaged in hot, cold, or humid environments, then yes. We will get to what exactly these items are in just a moment, but first, let's talk about the extreme temperatures that our neck of the woods experiences every year.
Here in Akron, the summer high temperatures average around the low 80's and occasionally climb into the 90s. During the winter, it is not uncommon for the low temperatures to dip into the 10s and 20s or lower. Since storage units are not insulated the same way homes are, you can imagine that a sunny, 80-degree day can warm up your non-climate controlled unit to over 100-degrees – a nice temperature to melt that unity candle from your wedding!  

What Items Should Go In My Climate Controlled Self Storage Unit?
This is the biggest question many people have when considering renting a climate controlled self storage unit. You may think that you only have a couple items that need to be climate controlled, but most likely a lot of items in your normal storage unit could benefit from being in a more controlled environment. We've provided a list of just a handful of the many items that can benefit from climate controlled storage units in Akron, Ohio. Keep in mind, these are cautious suggestions. Realistically, some of these items will do just fine in regular storage! The decision to choose climate controlled storage will depend on how valuable your items are – both monetarily and emotionally. Obviously, if you own a historic piano or a famous oil painting, storing those items properly will help them maintain value over time, especially if you are storing them for long periods. Other items, though, will most likely be fine in regular storage granted we don't experience any extreme and sudden temperature shifts. If you want to err on the side of caution, consider adding the following belongings to your climate controlled self storage unit. We've created a helpful infographic to consolidate this information, but you can read why each of the following items should be in climate controlled storage below: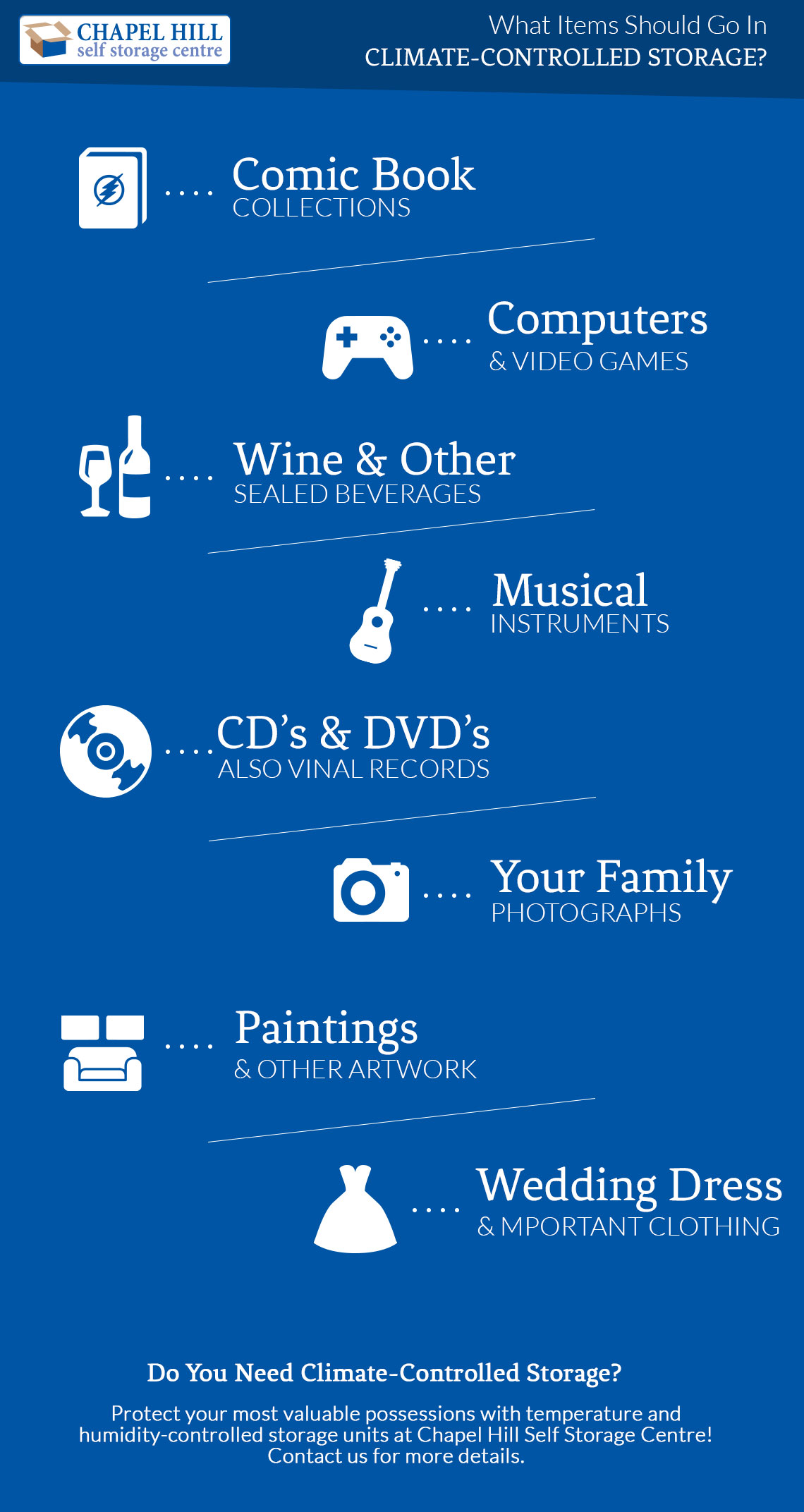 Art: Art is highly susceptible to damage when not stored at optimal temperatures. Museums go the extra mile by keeping highly valuable pieces in glass containers that control heat and humidity. Whether you have an original Picasso or want to keep a picture your daughter painted in art class in pristine condition, temperature and humidity controlled storage units are the way to go to keep art from shrinking and expanding with extreme temperature changes as well as preventing mold and mildew from growing.
Photographs: Photographs can easily incur damage when exposed to high heat and humidity. In warm, humid environments photographs that are stacked on top of each other can begin to melt and stick together, possibly ruining those pictures forever. Either keep valuable items in your home or choose a controlled storage unit. 
Wine: Fine wines are usually stored in underground cellars. This is because wine does best at cooler temperatures. When wine gets too warm in storage, it can develop a "cooked" or flat taste and age more quickly than it should. So whether you've been saving a bottle of wine from your wedding for a special occasion or found yourself in the possession of a vintage bottle, choose temperature controlled storage to ensure it's taste is not altered by warm temperatures.
Electronics: All those old game cartridges and consoles that you bought in the 80s and 90s are worth a lot of money today – if they are in good condition and still work. If they've been sitting in a hot storage unit, it is possible they haven't fared too well. Whether you are storing game consoles, computers, televisions, cameras, speakers, or another electronic device, consider moving them to a climate controlled self storage unit, especially during summer heat waves. Hot weather and high humidity can cause them to corrode or short circuit when you turn them back on.
CD's and DVDs: While many young people today have never seen an optical disc in their life, anyone over the age of 20 is highly familiar with these nifty music and movie delivery systems. If we experience a particularly hot day, these items can begin to warp if they are in a hot storage unit. While we're at it, don't store your vinyl records in non-climate controlled storage either! We recommend either keeping these in a climate controlled unit, or making a trip to your regular unit during the summer to ensure the temperature is not too hot. 
Wooden Furniture: Headboards, kitchen tables, antique chairs, and other wooden furniture pieces can benefit from being in climate controlled self storage, especially if they are heirloom pieces that you hope to pass along to your children someday. If exposed to heat and humidity for too long, the wood can warp and crack. This is unlikely, but it is a possibility to keep in mind when choosing what items go in your storage unit. 
Leather Furniture: Just like wooden furniture, leather couches and chairs can also benefit from a temperature-controlled storage unit. With mass temperature changes, leather can shrink and expand which overtime can lead to leather that is dried-out and cracked. Be sure to either choose climate controlled storage or do some research about how to properly store your couch in a regular unit ensure there will be no issues over time. 
Important Clothing and Fabrics: Sentimental textile items like wedding gowns, suits, or family quilts should be stored in temperature and humidity controlled storage facilities because heat and humidity can cause mildew to grow on fabric. These items will often be fine in regular storage too, but we suggest having them cleaned first to get rid of any existing bacteria that can grow in the heat. 
Musical Instruments: Our neighbor, Cleveland, might be the Rock And Roll Capital Of The World but Akron still has its fair share of musicians. Some instruments fare better than others in regular storage facilities, but it is important to understand how your instrument will react to humidity and big temperature shifts. You can usually take a chance with most instruments in regular storage, but if you have a very expensive or irreplacable piece, a climate controlled unit might be a better option just to ensure the instrument stays in top shape. Below we've given some more details about how temperature and humidity can affect some common instruments.

Pianos: Pianos are some of the most expensive musical instruments and can last for hundreds of years if properly cared for. Pianos are mostly made of wood, and as we mentioned above, wood can crack and warp in extreme uncontrolled environments. High humidity can cause a piano to come out of tune, can cause metal parts to rust and corrode and can cause glued joints to come undone. Your piano might be fine in regular storage, but any expert will say it is best to go with a controlled environment. 
Guitars, Violins, And Other Stringed Instruments: Stringed instruments, especially those made out of wood, will experience the same expanding and contracting that other wood items will during big temperature shifts. This can cause them to become out of tune and they might need a tune-up if they've been in regular storage for a long period of time. 
Brass: Of all these instruments, brass instruments are the least likely to experience issues in regular storage, but it doesn't hurt to throw it in your climate controlled unit. 

Comics, Stamps, and Trading Cards: Whether you collect baseball cards or Pokemon cards, comic books or stamps, any sort of paper-based collection would probably do better in a climate controlled storage facilities – or just make sure any rare or valuable pieces are in individual plastic sleeves in regular storage. Just like photographs, these items have the possibility of curling or sticking together in high heat and humidity. So, if you have any first-edition Marvel Comics sitting around, you might want to keep them safe at home or in a climate controlled unit. If you have items that you aren't particularly sentimental about, those will probably be fine in regular storage. 
Coins: If you are a coin collector, keeping your coins in temperature and humidity controlled storage can prevent tarnishing and darkening – though, some collectors enjoy a little character on their coins. The choice is yours, and there are ways to properly store your coins to keep them safe in regular storage if you go that route. 
How Much Does Climate Controlled Self Storage Near Me Cost?
Chapel Hill Self Storage Centre is dedicated to providing the best self storage in Akron, and that includes our pricing. We offer both climate controlled and non-climate controlled self storage units, and our climate controlled storage options are very affordable. You can check out our pricing here. We offer humidity and temperature controlled self storage units in our most popular sizes ranging from a small 5' x 5' unit to a large 10' x 20' storage unit. This gives you plenty of options based on your storage needs and budget.

Are Your Akron Self Storage Facilities Safe?
We are a 24/7 self storage facility so you can access your belongings at any time. We are completely fenced-in, have well-lit units and aisles, a controlled electronic gate, and video surveillance recording at all times. We also have a friendly on-site manager during business hours who can assist you if needed. We simply want to be a better, more comfortable storage solution for people looking for short or long-term storage in Akron and do our best to keep our facilities clean and inviting.
Do You Have Climate Controlled Self Storage Units Near Me?
Chapel Hill Self Storage Centre is conveniently located on the northeast side of Akron, Ohio right across from JC Penney at the Chapel Hill Mall. We are just a short driving distance from some of Akron's most popular neighborhoods like Tallmadge, Cuyahoga Falls, and Munroe Falls. Many people come from a ways away just to utilize our secure self-storage facilities. Many storage facilities make you drive out to the edges of town, which can be intimidating when you need to visit your storage unit in the middle of the night. We want people to feel good about where they store their belongings, and choosing a storage facility located in the heart of the town can help with that. As we've mentioned before, we offer both climate controlled and non-climate controlled self storage units, so you can do all of your storing at one place if you need units of both kind.
Will I Be Locked Into A Contract If I Use Your Self Storage Facilities?
We know that some people are looking for long-term storage and others are looking for short-term self storage, so we do what we can to facilitate everyone. We offer monthly, quarterly, and yearly leases to ensure that you are never stuck in a year-long contract if you only need storage for six months. We also offer a convenient option to pay online so you never have to make unnecessary trips to the facility to drop off a check. You can check out our price of climate controlled storage units and regular units here.
Rent A Climate Controlled Self Storage Unit In Akron
We want your items to be safe when they are in storage. While realistically, most items will do just fine in regular storage, if you are concerned about heat or humidity a climate-controlled unit might ease your mind, especially for those large, valuable items that you don't have space for at home. Prevent heat and humidity-related changes of electronics, instruments, paintings, wine, and other important belongings with Chapel Hill climate controlled self storage in Akron, Ohio.